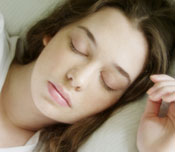 Here's a report from Spain of a patient who self-medicated with valerian (Valeriana officinalis L) and passionflower (Passiflora incarnata L) while taking lorazepam (Ativan, a benzodiazepine drug).
First, the details.
An adult man reported handshaking, dizziness, throbbing, and muscular fatigue over 32 hours.
The family medical history excluded the possibility of Parkinson's disease, Wilson's disease, and other conditions with similar symptoms.
The doctor concluded that the symptoms were cause by adding valerian to the lorazepam treatment.
The bottom line?
The authors concluded that the "active principles of valerian and passionflower might increase the inhibitory activity of benzodiazepine's binding to the GABA receptors, causing severe secondary effects."
Gama-aminobutyric acid (GABA) receptors are located in nerve cells in the brain, and are the site where benzodiazepine drugs like lorazepam bind to cause their tranquilizing acton.
In the lab, valerenic acid (a constituent of valerian) has been shown to stimulate GABA receptors. And the symptoms displayed by this patient are consistent with adverse reactions to lorazepam, which could have been precipitated by adding another drug that binds to GABA receptors.
PubMed searches revealed no other reports of an interaction between passionflower or valerian and benzodiazepine drugs.
There's no evidence supporting the involvement of passionflower in this reaction.
7/10/09 17:03 JR