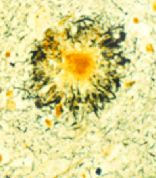 During the Alzheimer's Association 2009 International Conference on Alzheimer's Disease, researchers from Oregon Health & Sciences University, in Portland reported that the benefits of docosahexaenoic acid (DHA), an omega-3 essential fatty acid, were influenced by a patient's genetic makeup.
First, the details.
402 patients with mild to moderate Alzheimer's disease were given DHA or placebo for 18 months.
And, the results.
After 18 months, both groups had an 8-point decline in the Alzheimer's Disease Assessment Scale-cognitive score.
There was an 11-point decline in Activities of Daily Living scale with placebo vs a 10-point decline with DHA.
Behavioral symptom scores increased 4 points with placebo vs 2 points with DHA.

None of these differences were significant.

However, those taking DHA who had the apolipoprotein E4 gene had a 5-point increase the scale measuring worsening of memory or thinking processes, while those without the gene showed about a 10-point increase — a significant difference.
The bottom line?
There's no evidence that DHA can reverse the effects of Alzheimer's disease in people with the apolipoprotein E4 gene, just that disease progression may not be a rapid.
Measuring the effect of having the apolipoprotein E4 gene was not the primary objective of the study. Therefore, the results are interesting, but not definitive.
But, these finding provide more support for the potential influence of genetics on the response to supplements.
More examples are here and here.
7/17/09 11:53 JR