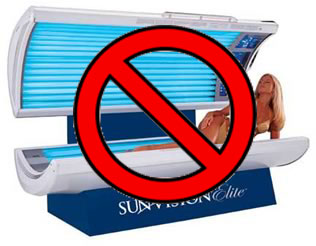 According to this article on Breitbart.com, the International Agency for Research on Cancer has elevated sunbeds for tanning to its highest cancer risk category.
Classified in 1992 and a "probable" cancer agent, research since then has left no doubt that soaking up UV rays at tanning salons significantly enhances the chances of developing the disease, the World Health Organisation (WHO) agency found.
The risk of melanoma — the most lethal form of skin cancer — increases 75% when use of tanning devices starts before the age of 30.
The bottom line?
The British Association of Dermatologists, and the National Union of Dermatologists in France support this decision.
The American Dermatological Association has also clearly stated their opposition to "unprotected exposure to ultraviolet (UV) radiation." And that includes sunlight and tanning parlors.
7/28/09 21:48 JR