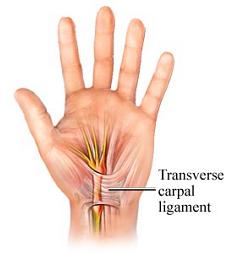 Acupuncture provides an alternative to corticosteroid treatment, according to this study by researchers at Kuang Tien General Hospital, in Taiwan.
First, the details.
77 consecutive patients with mild-to-moderate carpal tunnel syndrome as measured by nerve conduction studies were studied.
Patients were randomly divided into 2 treatment groups.

2 weeks of taking the corticosteroid, prednisolone 20 mg daily followed by 2 weeks of prednisolone 10 mg daily
8 sessions of acupuncture over 4 weeks

A validated questionnaire was used to rate 5 symptoms (pain, numbness, paresthesia [tingling], weakness/clumsiness, and awakening at night).
Nerve conduction studies were performed at the start and end of the study.
And, the results.
Symptoms improved significantly in both groups at weeks 2 and 4 of treatment.
There was no difference between treatments when the 5 symptom scores were combined into a "global" score.
Only nocturnal awakening significantly decrease with acupuncture vs steroid treatment.
Acupuncture was associated with a significant decrease in distal motor latency compared with steroid treatment at week 4.

Distal motor latency is the time between the stimulus and the onset of muscle contraction.
The bottom line?
The authors concluded, "Short-term acupuncture treatment is as effective as short-term low-dose prednisolone for mild-to-moderate carpal tunnel syndrome."
They think that acupuncture is an alternative for people who are unable or unwilling to take steroids by mouth or surgery.
Back in 2003, a Cochrane Library review of non-surgical treatment of carpal tunnel syndrome concluded that acupuncture "did not demonstrate symptom benefit when compared to placebo."
Since then, a study by researchers at the Massachusetts General Hospital, in Charlestown reported that acupuncture showed promise based on changes in response to skin stimuli.
The current study appears to be the first comparative study to report improved symptoms in patients with carpal tunnel syndrome.
7/11/09 20:50 JR