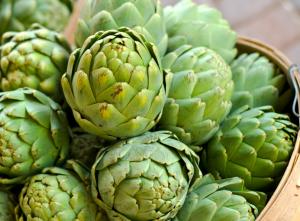 According to researchers at The University of Reading in the UK, artichoke leaf extract (Cynara scolymus) makes a modest contribution.
First, the details.
The objective was to assess the effect of artichoke leaf extract (ALE) on cholesterol blood levels in otherwise healthy adults with mild to moderate hypercholesterolemia.
Volunteers consumed 1280 mg of ALE or placebo daily for 12 weeks.
And, the results.
Total cholesterol decreased with ALE by 4% but increased 1.9% with placebo — statistically significant.
No significant differences between groups were observed for LDL (bad) cholesterol, HDL (good) cholesterol, or triglyceride levels.
General well-being improved significantly in both the treatment (11%) and placebo (9%) with no significant differences between groups.
The bottom line?
The authors concluded, "ALE consumption resulted in a modest but favorable statistically significant difference in total cholesterol after 12 weeks." It's possible that the "apparent positive health status of the study population may have contributed to the modesty of the observed response."
Many lipoproteins in blood contribute to total cholesterol levels. They include chylomicrons, very low density lipoprotein (VLDL), intermediate density lipoprotein (IDL), low density lipoprotein (LDL), and high density lipoprotein (HDL).
Question: If total cholesterol goes down, but LDL, HDL, and triglycerides don't change significantly, what contributed to the decline? The abstract doesn't say.
10/30/08 20:20 JR