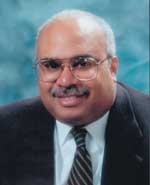 Medscape has an interview with Dr. Georges Benjamin (photo), who is executive director of the American Public Health Association.
Highlights follow.
When swine flu is suspected or confirmed in the community
Keep your distance from people who are coughing or sneezing.
Wash your hands frequently.
Keep your hands away from your eyes, nose, and mouth.
Use good judgment in keeping your environment clean, such as doorknobs.
When someone in your home is sick
Limit exposure by keeping them in a room separate from common areas.
Limit the number of people who enter their room.
Consider using gowns, masks, or gloves when handling infectious material such as tissue.
Keep sick kids home from school.
Adults who don't feel well should stay home from work or other group activities.
Facemasks
Rather than rely on facemasks or respirators, avoid crowded settings and close contact with people who might be ill.
In a crowded setting, consider facemasks to protect you and others from transmission through coughing.
Consider using a respirator when close contact with an infectious person is unavoidable — caregivers.
Hand washing
Wash your hands with warm water and soap as frequently as possible for at least 20 seconds, especially if they are visibly soiled.
Alcohol-based sanitizers are a good second choice.
The bottom line?
These recommendations are applicable to any infectious situation.
The article includes many links for more information.
5/3/09 13:01 JR