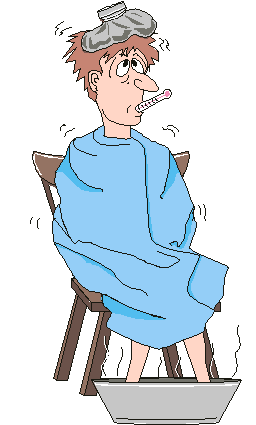 Influenza-like illness is similar to the flu, and more severe than cold-like symptoms.
Researchers from Australia report that it's a challenge, but when parents wear a facemask they have a reduced risk of getting influenza-like symptoms from their children.
I'm reposting this entry because of its relevance to the swine flu epidemic.
First, the details.
During the 2006 and 2007 winter seasons, 280 adults from 145 households who had been exposed to a child with clinical respiratory illness were recruited.
The adults were randomly assigned to a treatment group.

Surgical masks (3M #1820; St. Paul, MN, USA) to wear when in the same room as their child.
P2 masks (3M flat-fold P2 mask, #9320; Bracknell, Berkshire, UK) to wear when in the same room as their child
No masks

Participants were contacted by telephone daily to determine if symptoms had developed and to record adherence to mask use during the day.
And, the results.
Among the adults assigned to wear a mask, fewer than 50% reported wearing the mask as directed.

Most complained it was uncomfortable.
Others stated their child didn't want them wearing a mask.

Accordingly, when the total population of adults were evaluated, there was no significant difference among groups in the risk of influenza-like illness.
21% of households reported wearing the masks often or always.

Adherence to mask use in this group was associated with a significantly reduced risk of influenza-like illness.
The bottom line?
During the height of the SARS Hong Kong epidemic in 2003, adherence to infection control measures was high
76% of the population wore a face mask
65% washed their hands after relevant contact
78% covered their mouths when sneezing or coughing
Under these condition, the Hong Kong Department of Health reported that community hygienic measures significantly reduced the incidence of various respiratory viral infections.
Perhaps Asians are more accepting of facemasks. If you've traveled to Asia you know it's not uncommon to see people wearing them in subways and on the street.
On the other hand, it's possible that the context in which people are expected to wear an uncomfortable facemask has an effect. The consequence of non-adherence in Hong Kong during the SARS epidemic was greater compared to this study where self comfort and a less cranky child were greater inducers to non-compliance than the risk of a bad cold was to compliance.
3/29/09 16:42 JR