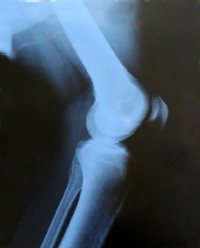 No better than placebo after 24 months of treatment.
First, the details.
A 24-month study was conducted at 9 sites in the US as part of the Glucosamine/Chondroitin Arthritis Intervention Trial (GAIT).
572 patients with knee osteoarthritis (Kellgren/Lawrence grade 2 or 3 changes and joint space width of at least 2 mm) participated.

The Kellgren-Lawrence score differentiates the severity of osteoarthritis.
Grade 2 has abnormal bone growth (osteophytes) and definite narrowing of the joint space.
Grade 3 also has scarring and bone deformity.

Patients were randomly assigned to 1 of 5 groups.

Glucosamine 500 mg 3 times daily
Chondroitin sulfate 400 mg 3 times daily
The combination of glucosamine and chondroitin
The COX-2 inhibitor, celecoxib (Celebrex) 200 mg daily
Placebo

Patients and researchers were not aware of the treatment given — double-blind.
And, the results.
There was no statistically significant difference in average joint space width loss with any treatment compared to placebo.
A trend, but not a significant change in radiological findings was reported with the treatments vs placebo.
The bottom line?
The authors concluded that after 2 years of treatment, there was no clinically important difference in joint space width loss compared with placebo. "Knees with Kellgren/Lawrence grade 2 radiographic osteoarthritis appeared to have the greatest potential for modification by these treatments."
An earlier report by the GAIT researchers reported benefit in patients with moderate-to-severe knee pain.
It's a complicated area. This study was designed to identify pathological changes. The earlier study looked for evidence of pain relief.
9/30/08 19:48 JR