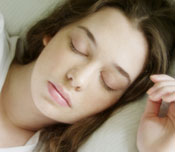 Cognitive behavioral therapy (CBT) and hypnotic medications are effective for short-term treatment of insomnia, but few patients achieve 100% relief with either alone.
Researchers from Canada studied the effects of combined therapy.
First, the details.
160 adults with persistent insomnia were randomly assigned to a treatment.

CBT alone for 6 weeks

Patients initially treated with CBT attended monthly maintenance CBT for 6 months or received no additional treatment.

CBT + zolpidem (Ambien) 10 mg/day at bedtime for 6 weeks, followed by 6 months of therapy.

Those initially treated with combined therapy (CBT + zolpidem) continued with CBT plus intermittent use of zolpidem or CBT only.
And, the results.
During initial therapy, CBT alone or combined with zolpidem produced significant improvements in sleep latency (time to get to sleep), time awake after sleep onset, and sleep efficiency (time slept divided by time in bed).
A significantly larger increase of sleep time was obtained with combined treatment.
With the 6-week acute treatment, both CBT alone and CBT + zolpidem produced similar rates of treatment responders (60% vs 61%, respectively) and treatment remissions (39% vs 44%).
But combined therapy produced a significantly higher remission rate vs CBT alone during the 6-month extended therapy phase and the 6-month follow-up period (56% vs 43%).
A significantly  better long-term outcome was obtained with patients treated with combined therapy initially, followed by CBT alone (higher remission rates at the 6-month follow-up) vs patients who continued to take zolpidem during extended therapy (68% vs 42%).
The bottom line?
The authors concluded, "In patients with persistent insomnia, the addition of medication to CBT produced added benefits during acute therapy, but long-term outcome was optimized when medication is discontinued during maintenance CBT."
In 1993, Dr. Charles Morin published the results of research in 24 older adults with insomnia. He found that 8 weeks of CBT improved their insomnia. And the improvement lasted 12 months. Medscape interviewed him a couple of years ago.
More on good sleep habits and behaviors is here.
5/20/09 20:40 JR