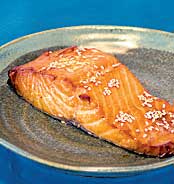 Researchers from Australia reviewed the medical literature and conclude omega-3 fatty acids and fatty fish might offer protection from age-related macular degeneration (AMD).
First, the details.
9 studies provided data on 88,974 people, including 3,203 AMD cases.
And, the results.
A high dietary intake of omega-3 fatty acids was associated with a 38% reduction in the risk of late AMD.
Fish intake at least twice a week was associated with a lower risk of both early and late AMD.
The bottom line?
They conclude however, "There is insufficient evidence from the current literature, with few prospective studies and no randomized clinical trials, to support their routine consumption for AMD prevention."
Earlier reviews and studies have also come to equivocal conclusions and recommendations in this area of research.
6/13/08 21:34 JR