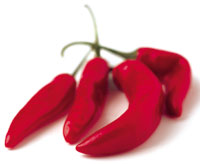 Postherpetic neuralgia is a painful complication of herpes zoster (shingles).
Researchers from the Mayo Clinic have published an extensive review. Here are their thoughts on the use of capsaicin.
Capsaicin
Clinical study results support its effectiveness.
A burning sensation is associated with application and limits its use.
The burning sensation decreases with continued use.
It may take at least 4 weeks of treatment for pain relief to occur.
Patients should expect some discomfort before deriving benefit.
The bottom line?
Capsaicin is one of 2 topically applied treatments for postherpetic neuralgia. The other is lidocaine (in addition to lots of extemporaneously compounded products). There are many drugs that can be taken by mouth, in addition to a vaccine.
Unfortunately, no treatment reliably relieves the pain. Drugs are often started at low doses that are increased until the pain is reduced or side effects occur. The authors recommend to "undertake treatment in a systematic fashion that will allow appropriate assessment of both benefit and adverse effects of each drug."
In order not to complicate a difficult treatment challenge, capsaicin should be used with the knowledge of the doctor.
3/6/09 18:37 JR