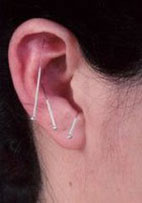 Researchers from South London and Maudsley NHS Foundation Trust, UK set about to determine whether auricular acupuncture leads to less severe opiate withdrawal symptoms and craving when used as an adjunct to methadone detoxification.
First, the details.
83 opiate dependent individuals participated.
Withdrawal severity and craving were recorded using the Short Opiate Withdrawal Scale and an 8-item craving questionnaire.
Urine screening was used to assess treatment adherence.
And, the results.
Auricular acupuncture had no effect on withdrawal severity or craving when used in addition to a standard methadone detoxification treatment.
The bottom line?
The authors commented, "The failure to find any clinical gains from the adjunctive use of auricular acupuncture during detoxification from opiates raises concerns about the widespread acceptance of this intervention."
There seems to be no consensus on the role of auricular acupuncture in substance abuse.
You can read here and here to become more confused.
3/17/09 19:28 JR