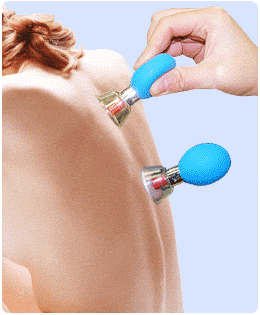 This study assessed magnetic acupressure to prevent nausea and vomiting following ear-nose-throat (ENT) or gynecological surgeries.
But should we apply these findings to other forms of acupuncture?
First, the details.
58 patients were randomly assigned to a magnet patch or a placebo patch.

33 had ENT procedures
25 had gynecological procedures

The patch was applied to the P6 site 15 minutes before surgery.
Anesthesia was standardized for all patients.
Neither the patients nor researchers were aware of the treatment assigned — double-blind.
And, the results.
There was no difference in the incidence of nausea and vomiting between magnet treatment (47%) and placebo (54%).
Patients receiving the magnet had a similar satisfaction level (75% satisfied) vs placebo (73% satisfied).
Magnet-treated patients had similar pain and nausea and vomiting scores to placebo.
A similar percentage of patients in each group received postoperative pain drugs.
There was no difference in the use of antiemetics.
The bottom line?
The negative results should probably not be applied to all forms of acupuncture.
Why?
Duke University Medical Center in Durham, North Carolina reported that acupuncture may be a useful adjunct for acute postoperative pain management.
A study reported at the American Society of Anesthesiologists meeting concluded that 2 hours after surgery, significantly more patients receiving acupuncture had no nausea or vomiting and required no antiemetics to reduce nausea and vomiting compared to placebo.
2/5/09 21:30 JR