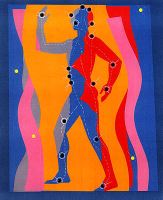 Courses in acupuncture are increasingly available to doctors. Here's a study of the outcomes of this education.
First, the details.
80 doctors who took a 300-hour acupuncture course at Harvard Medical School completed the survey.
Their average age was 45 years.
Most were in private practice (44%) or at an academic center (26%).
The most common medical specialties were internal medicine (25%), anesthesia/pain management (20%), family practice (14%), and physical medicine/rehabilitation (11%).
Most took the course to gain a clinical skill (97%).
And, the results.
After training, doctors felt able to integrate acupuncture into clinical practice (91%).
But only half did so.
Time constraints (58%) and reimbursement issues (44%) were barriers to acupuncture practice.
The most common condition treated was musculoskeletal pain (37%) and perceived efficacy was high.
Referral rates to non-doctor acupuncturists increased from 54% to 70% after training.
The bottom line?
The best way to integrate CAM is to educate allopathic healthcare professionals. Even if the doctors choose not to practice acupuncture after training, their use of the service through referrals increases.
4/2/08 20:46 JR