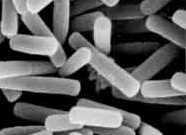 Researchers from Singapore studied the effect of probiotic supplementation during the first 6 months of life on eczema and allergic sensitization in Asian infants at risk of allergic disease.
First, the details.
253 infants with a family history of allergic disease were randomly assigned to receive at least 60 mL of commercially available cow's milk formula with or without probiotic supplementation (Bifidobacterium longum [BL999] 1 x 10(7) colony forming unit (CFU)/gram and Lactobacillus rhamnosus [LPR] 2 x 10(7) CFU/gram) daily for the first 6 months of life.
The risk of eczema and allergen sensitization was evaluated over 1 year.
The study was double-blind.
And, the results.
The incidence of eczema was similar between groups.
Scoring Atopic Dermatitis score at 12 months did not differ between groups.
The prevalence of allergen sensitization showed no difference.
Total IgE (the antibody most involved in allergic reactions) did not differ.
The bottom line?
The authors concluded, "Early life administration of a cow's milk formula supplemented with probiotics showed no effect on prevention of eczema or allergen sensitization in the first year of life."
In an earlier Cochrane review the authors concluded, "It is possible that different types of probiotics which haven't yet been studied in eczema treatment could be more effective." But the currently available probiotics do not seem to be effective.
There are lots of variables to consider. Timing of administration, dosing, as well as the strain of probiotic might influence the results.
Background on probiotics and their cousins, pre- and symbiotics is here.
1/13/09 18:43 JR