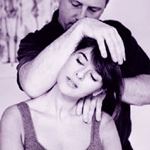 Researchers from the Canadian Memorial Chiropractic College in Toronto reviewed the response to a single session of manual therapy in patients with chronic neck pain not due to whiplash and without headache or arm pain.
For background, mechanical neck pain is sometimes called "simple" or "non-specific" neck pain. Often, the exact cause isn't known, but it's associated with minor injuries or sprains to neck muscles or ligaments. People who work at a desk with a "bent-forward" posture often complain of this problem, according to Patient UK.
Now, the details.
A literature search of chronic neck pain treated with manual therapies was conducted.
9 studies with a score above 60% on the PEDro Scale (Physiotherapy Evidence Database) were included.

6 spinal manipulation
4 spinal mobilization or non-manipulative manual therapy (2 overlapping studies)
1 ischemic compression

There was no study of massage or manual traction.
Changes in pain were reported using a 100 mm visual analogue scale (VAS).
And, the results following a single treatment session.
Manipulation: improvement averaged 9 mm.
Mobilization: improvement was 12 and 4 mm in 2 studies.

1 comparison to sham mobilization showed no difference.

Ischemic compression: 1 study reported a statistically significant decrease in pain of 15 mm.
The bottom line?
The authors concluded, "There is moderate-to-high quality evidence that immediate clinically important improvements are obtained from a single session of spinal manipulation."
They were less impressed with mobilization; and found insufficient support for ischemic compression, massage, and manual traction.
An average improvement of 9 mm on a 100 mm VAS following a single session of manipulation doesn't seem impressive. Better perspective is gained when considering the findings of a 2007 Cochrane Library review of mechanical neck pain. It concluded that aside from methylprednisolone injections, "limited evidence and unclear benefits" were associated with muscle relaxants, analgesics, and NSAIDs.
In an earlier report, the same authors reviewed the long-term benefits of manipulation therapy. They concluded there were "improvements from a course of spinal manipulation or mobilization at 6, 12, and up to 104 weeks post-treatment.
By comparison, the Cochrane review found that pain relief following methylprednisolone injection did not last for 6 months compared to placebo in one study.
1/4/09 17:27 JR