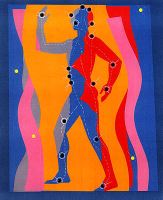 New data since the last review lead the authors of this Cochrane review to conclude, "Acupuncture should be considered a treatment option."
First, the details.
22 studies of 4419 participants were included in the review.
And, the results.
6 studies (including 2 large studies with 401 and 1715 patients) of acupuncture vs no prophylactic treatment or routine care only reported that after 3 to 4 months, acupuncture was associated with higher response and fewer headaches.
The only study with long-term follow-up reported no evidence that acupuncture's effects dissipated up to 9 months after cessation of treatment.
Pooled data from 14 studies of "true" acupuncture vs a variety of sham interventions showed no statistically significant benefit with true acupuncture.
4 studies of acupuncture vs proven prophylactic drug treatment reported slightly better outcomes and fewer side effects with acupuncture.
2 small low-quality studies of acupuncture vs relaxation (alone or combined with massage) could not be interpreted reliably.
The bottom line?
The authors concluded, "Available studies suggest that acupuncture is at least as effective as, or possibly more effective than, prophylactic drug treatment, and has fewer adverse effects."
But does it matter where the needles are placed? How do you explain the lack of difference in response to acupuncture and sham acupuncture? This issue seems to come up repeatedly, as discussed here.
1/23/09 21:48 JR