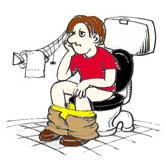 Giving zinc tablets reduces the duration and severity of diarrhea in children, according to researchers from the Medical College of Georgia in Augusta.
First, the details.
The results from 22 studies (more than 18,000 children) were re-evaluated (meta-analysis).

16 studies of acute diarrhea
6 studies of persistent diarrhea

The studies compared the effectiveness and safety of supplementary zinc given by mouth vs placebo.
And, the results.
The duration of acute diarrhea and persistent diarrhea was significantly lower with zinc vs placebo.
Children with acute and persistent diarrhea who took zinc had a 19% and 13% reduction in stool frequency, respectively.
They also had a 15% shortening of diarrhea duration and an 18% probability of reducing diarrhea vs placebo.
Vomiting after therapy was often significantly higher for zinc.

Vomiting was more frequent with zinc gluconate vs zinc sulfate or zinc acetate.
The bottom line?
When combine with other studies, "zinc therapy is useful for treating both acute and persistent diarrhea and for their prophylaxis," the authors concluded.
Although the exact mechanism of the effect of zinc in children with diarrhea is not known, it's generally thought to relate to zinc's role in maintaining the proper function of the immune system.
2/27/08 09:26 JR