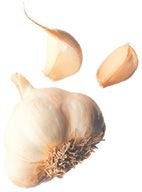 Researchers from the Russian Academy of Medical Sciences report positive effects on lipid blood levels when people with mild hypercholesterolemia were treated with a slow-release garlic product called Allicor.
First, the details.
42 adult men with mild hypercholesterolemia were randomly assigned to treatment with a time-released garlic powder tablets (Allicor 600 mg daily) or placebo for 12 weeks.
Neither the researchers nor patients were told of their treatment — double-blind.
And, the results.
Allicor treatment resulted in moderate but statistically significant changes in cholesterol compared to the start of the study and compared to placebo.

Total cholesterol declined 8% and 12%, respectively.
LDL (bad) cholesterol fell 12% and 14%, respectively.
HDL (good) cholesterol increased 12% by the end of the study.
The bottom line?
The authors concluded that the results might be "due to the use of a time-released form of garlic powder tablets that provides a prolonged biological effect."
According to one source, dried garlic is thought to retain more of the properties of fresh garlic than do preparations such as garlic oil or extract.
A PubMed search revealed 11 studies of this product. Most are in Russian, but an English-language study (which I can read) published earlier this year also reported beneficial effects (in people with diabetes) on lipid levels after 4 weeks of treatment with Allicor.
12/9/08 19:59 JR