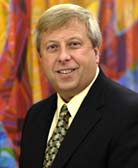 Dr. Brent Bauer (photo) who practices in the Division of General Internal Medicine and is Director of the Complementary and Integrative Medicine Program at Mayo Clinic was interviewed as part of their ongoing series of podcasts.
Here are the highpoints.
Exercise
During treatment there's some deconditioning and a lot of stress.
A gentle, graded approach to aerobic exercise results in significant improvement in fatigue for many patients.
The exercise you were doing before treatment should be maintained at a reduced rate.
Ginseng
A small study at Mayo found some reduction in fatigue and a better quality of life.
Unfortunately, the quality of many ginseng products varies.
Herbs and supplements
There's concern that taking an antioxidant during chemotherapy might blunt some of the effects of the chemotherapy.
More studies are needed to know for sure.
Acupuncture
Studies suggest a beneficial effect in treating chemotherapy-induced nausea.
More research is need to understand how it works.
Music therapy
There are 2 levels of music therapy: as background and working with a certified therapist.
A study of the response to a music therapist revealed reduced nausea and stress levels, and a slowed heart rate.
Other studies show that simply playing music of choice in the background reduces stress and perhaps lessens nausea.
Yoga
Yoga tends to lower stress and improve flexibility.
Some people find it's a respite from the daily routine.
The bottom line?
The interview format doesn't allow Dr. Bauer to do more than scratch the surface. An earlier review of CAM and cancer is summarized here, with a link to a more detailed table.
12/15/08 19:39 JR