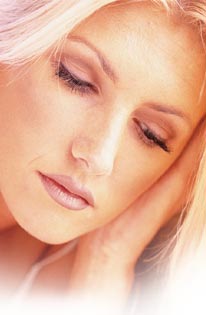 Studies suggest that soy relieves neuropathic pain in animals and reduces pain and improves range of motion in people with osteoarthritis.
Based on this, researchers from the Mayo Clinic thought it reasonable to look for benefits of soy in people with fibromyalgia.
First, the details.
50 patients at the Mayo fibromyalgia outpatient treatment program were randomly assigned to drink a daily soy or placebo (casein) shake.
After 6 weeks they were evaluated using the Fibromyalgia Impact Questionnaire (FIQ) and the Center for Epidemiologic Studies Depression Scale (CES-D).

FIQ measures physical function; pain, fatigue, morning tiredness and stiffness; job difficulty; depression and anxiety; days of work missed; and overall well-being during the previous week.
CES-D measures depressed mood; feelings of guilt, worthlessness, helplessness or hopelessness; psychomotor retardation; loss of appetite; and sleep disturbance.

Neither the patients nor the researchers knew the treatment given — double-blind.
And, the results.
FIQ scores decreased 14% in the soy group and 18% with placebo. Both were significant, but the difference between groups was not.
Similarly, CES-D scores decreased 16% in the soy group and 15% with placebo. Again, both were significant, but the difference between groups was not.
The bottom line?
The authors concluded that there was "no benefit of soy compared with placebo." And, larger studies "are probably not indicated."
I have a different view.
Drinking a soy shake once a day was as good as drinking a placebo shake. Both made significant improvements in physical function and depression. Obviously, it's not what's in the shake, but the process of drinking the shake that's important.
Back when I was young, children were not allowed to visit patients in a hospital. So, when my parents made a hospital visit, they kept me busy by buying me a milkshake in the gift shop. I loved to sit at the counter and slowly sip the shake.
Vanilla, chocolate, strawberry, it didn't matter what was in the shake, just watching the "jerk" mix it and then drinking the creamy coolness of it made an otherwise boring outing, worthwhile.
I do agree with the authors however, that further research is not necessary.
11/22/08 09:37 JR