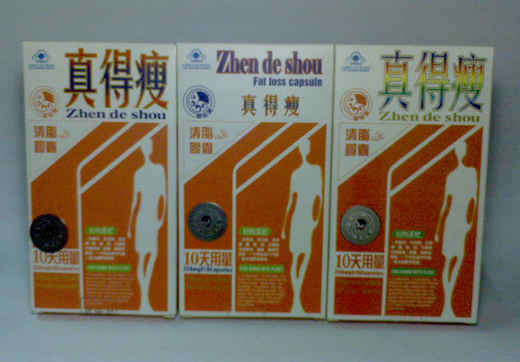 A company called Fashion Sanctuary is removing from the market all Zhen De Shou Fat Loss Capsules sold in 10-count blister cards.
In addition, Balanced Health Products, Inc. is voluntarily recalling Starcaps Diet System Dietary Supplement sold in 30-capsule plastic bottles.
First, Zhen De Shou Fat Loss Capsules
Listed ingredients in this product include Crategus pinnatifida, safflower, gingko-nut, Cassia see and alga (luoxuanzao in Chinese), according to one source.
The problem is that it also contains sibutramine (Meridia), which is not listed among its ingredients and has not been approved by the FDA for use in this product.
In some people, sibutramine could substantially increase blood pressure and/or pulse rate. People at highest risk of adverse effects include those with a history of coronary artery disease, congestive heart failure, arrhythmias or stroke.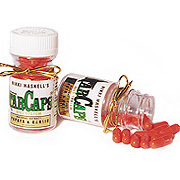 Now, Starcaps.
According to the FDA, Starcaps contains bumetanide (Bumex) — a diuretic that was not listed among its ingredients and is not approved by the FDA to be used in this product.
Starcaps lists the following ingredients: natural extract papaya & garlic, valerian, corn xpices, papain (protein digestive enzyme), magnesium carbonate, and magnesium oxide.
Potential risks associated with using bumetanide include serious and significant fluid (dehydration) and electrolyte loss and an increased in uric acid blood concentrations.
Consumers should not take bumetanide if they are allergic to sulfonamides. In addition, significant drug interactions and toxicity have been reported when bumetanide is taken with digoxin (Lanoxin) and lithium.
Patients may also be at an increased risk of hypotension (low blood pressure), fainting (syncope) and resultant injury if they have normal blood pressure or are already taking medicine to lower their high blood pressure.
The bottom line?
The recall of Zhen De Shou Fat Loss Capsules is an example of the disregard exhibited by many Chinese pharmaceutical manufacturers for the well-being of their customers.
The source of Starcaps is not clear.
11/26/08 15:57 JR