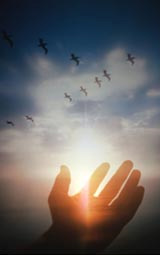 Therapeutic touch (TT) reduced pain and fatigue in cancer patients undergoing chemotherapy, according to this study by researchers in Iran.
But, how do we account for the placebo effect?
First, the details.
90 women (15 to 65 years) undergoing chemotherapy with pain and fatigue were randomly assigned to one of the 3 groups.

TT given for 30 minutes per day
Placebo TT done the same as TT but without centering and the intent to help the patient
Usual care

Patients recorded the intensity of pain and fatigue before and after the treatment for 5 days using visual analogue scales.
The researcher took a 5-month course to learn to give TT.
And, the results.
Pain

TT was associated with significantly better pain relief vs placebo TT on each of the 5 days.

Placebo TT was significantly better than usual care each day except day 1.

Fatigue

TT was associated with significantly less fatigue vs placebo TT on each of the 5 days.
Placebo TT was significantly better than usual care on days 2 and 3 only.
The bottom line?
The results support TT to reduce pain (and maybe fatigue) in people with cancer. However, the results also suggest there is a significant placebo effect (ie, social interaction or nursing presence) with TT.
In addition to presenting an overview of studies where TT or spiritual healing contributed to the management of pain in cancer and other conditions, the authors of this study also allude to the famous (infamous?) study by Dr. Stephen Barrett and colleges, which reported the inability of 21 experienced TT practitioners to detect an "energy field."
Dr. Barrett triumphantly concluded this was "unrefuted evidence that the claims of TT are groundless." However, I've never been convinced that the inability of one person to "detect" an energy field has anything to do with a patient's ability to experience less pain — the ultimate objective of TT.
The present study is not the definitive statement on TT, but in light of this and other positive TT studies and the use accepted tools to measure well-defined clinical endpoints, it's probably worth consideration in patient care and for future research.
2/24/08 14:32 JR