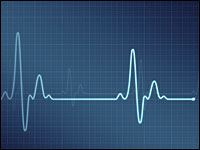 Might reducing negative emotions explain placebo-associated pain reduction?
And, should the stress response be included in every placebo-controlled study?
First, the details.
63 students were tested on 2 separate days.

One day they took capsules containing lactose, but were told the capsules contained a potent painkiller.
The next time, they were told the same thing, but no capsules were taken.

The volunteers didn't know the treatment given — single-blinded.
Pain was induced by placing a thermal probe (+46°C, 115°F) on the forearm for 240 seconds.
Electrocardiogram (ECG) was used to measure heart rate variability.
Subjective measurements included pain intensity, pain unpleasantness, stress, arousal, and mood.
And, the results.
There was a placebo effect on pain intensity that was accompanied by a reduction in subjective stress and heart activity.

These were the only factors independently associated with pain intensity.

Reduced subjective stress was the only predictor for the placebo analgesic response.
The bottom line?
The authors concluded, "Reduced negative emotional activation could be a mechanism in placebo analgesia."
My take is that every placebo-controlled study should include ECG monitoring in order to account for any response that might be associated with stress-reduction.
10/3/08 20:15 JR