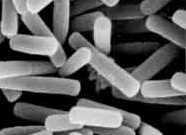 Antibiotic-associated diarrhea (AAD) occurs in about 25% of patients receiving antibiotics, placing them at increased risk for infection and death.
Probiotics given during antibiotic therapy lower this risk.
5 meta-analyses of studies of probiotics for prevention of AAD have been performed.
And, the results.
In the largest meta-analysis of 25 studies of probiotics to prevent AAD, more than half of the studies reported benefit from probiotics.

Lactobacillus GG, Saccharomyces boulardii, and the probiotic mixtures were effective.

A Cochrane Review calculated that to prevent 1 case of diarrhea, 10 patients would have to be treated.

Lactobacillus GG, Bacillus coagulans, and S. boulardii were most effective.
The bottom line?
The last time I was in the hospital, probiotics were part of my antibiotic therapy. So, the concept appears to be accepted, mainstream.
They're safe, but should be used with caution in the following patients.
Compromised immune system
Compromised integrity of the intestinal lining
In the presence of a central venous catheter
10/8/08 12:56 JR