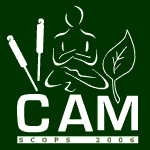 Stamford Hospital in Connecticut has launched its Center for Integrative Medicine & Wellness at the Tully Health Center.
4 programs focusing on common health concerns.
Integrative Cardiology Program
Integrative Medicine Consultation
Women's Health Services
Pain Management Services
Integrative consultative service are coordinated with the patient's physician and may include…
Acupuncture
Nutritional counseling
Trigger point injections
Botanical and supplement consulting
Mind body therapies
The bottom line?
People interested in the service can call 203-276-4777 for more information.
10/20/08 20:28 JR