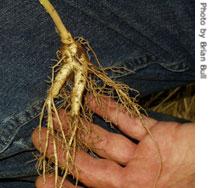 In January, the FDA recommended that over-the-counter (OTC) cough and cold products should not be used to treat infants and children less than 2 years of age because of serious and potentially life-threatening side effects.
But what about using ginseng in children from 3 to 12 years old?
Researchers from the University of Alberta in Edmonton, Canada studied the safety of Panax quinquefolius (American ginseng root extract) in a product called COLD-fX.
First, the details.
75 children were randomly assigned to treatment during November 2005 to March 2006.
2 weight-based dosing schedules of COLD-fX (standard dose and low dose) were compared to placebo.
Treatment was started within 48 hours of the onset of symptoms and continued over 3 days at a decreasing weight-based dose
The Canadian Acute Respiratory Infection Flu Scale was used to measure the severity and duration of upper respiratory symptoms.
Neither the children nor researchers knew the treatment given (double-blind).
And, the results.
46 kids developed an upper respiratory tract infection (15 standard dose, 16 low dose, and 15 placebo).
31 of the children experienced a total of 51 side effects.
The frequency, severity, and degree of association between the treatment received and reported adverse events were not significantly different among each of the 3 treatments.
No serious adverse events were reported.
The bottom line?
The authors concluded, "Standard doses of ginseng were well tolerated and merit additional evaluation with regard to treatment of pediatric upper respiratory tract infection."
This is apparently the first study of American ginseng in children. The authors tell us it was designed as a first step in determining the safety in children of this commonly used herbal before moving on to long-term studies that would better reflect the use of this product to prevent or minimize the severity of the common cold.
8/20/08 18:01 JR