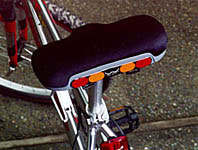 In this study, noseless saddles made it easier for police officers to ride their bikes.
But, what about erectile dysfunction?
First, the details.
90 police officers were evaluated before and 6 months after changing to a noseless bicycle saddle (photo shows an example).
And, the results.
After 6 months, only 3 men returned to a traditional saddle.
Among those who used the no-nose saddle continuously, there was a significant 66% reduction in saddle contact pressure in the perineal region

That's the diamond-shaped area on the butt that includes the anus, scrotum, and, in females, the vagina that is associated with erectile dysfunction and cycling.

There were significant improvements in penis tactile sensation and in erectile function.
There were no changes noted in Rigiscan measures of rigidity and the duration of an erection while sleeping.
The number of men indicating they did not experience urogential numbness while cycling for the preceding 6 months rose from 27% to 82% with the no-nose saddles.
The bottom line?
On average, bicycle cops spend 24 hours a week riding. For them, numbness and sexual dysfunction are occupational hazards.
The authors concluded, "With few exceptions, bicycle police officers were able to effectively use no-nose saddles in their police work." The no-nose saddles reduced most perineal pressure and improved penile health.
It's not clear how many cops complained of erectile dysfunction (inability to achieve/maintain an erection sufficient for satisfactory sexual intercourse) before the study. These saddles might make it easier to ride a bike, but over the course of this study there was no improvement in rigidity and duration of an erection.
WebMD has a good article on this topic. In it, Dr. Steven Schrader from the National Institute for Occupational Safety makes a comparison to lung cancer in smokers. True, not every cyclist suffers from erectile dysfunction, just like not every smoker gets lung cancer. Emphasis is needed on developing ways to lower the risk.
Different brands of no-nose saddles are presented here.
8/9/08 10:04 JR