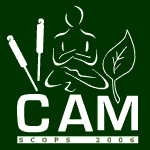 A study published in the journal, eCAM, and summarized in an earlier post, reported a remission rate of 65% when Iyengar yoga was used to augment the effects of anti-depressant drugs in 20 adults with unipolar major depression in partial remission.
How do other forms of CAM compare when used to improve a less than complete response to pharmacologic treatment of depression?
In a discussion of the results, the authors commented that their findings were similar to other studies of yoga, and similar as well to other CAM treatments when added to pharmaceuticals.
Here's the improvement reported with S-adenosyl-L-methionine (SAMe), omega-3, and folate.
43% using SAMe to augment the response to venlafaxine (Effexor, Efexor).
20% using omega-3 fatty acid combined with paroxetine (Paxil), fluoxetine (Prozac), mirtazapine (Remeron), fluvoxamine (Luvox), moclobemide (Aurorix, Manerix), or citalopram (Celexa).
65% using folate vs 48% with fluoxetine alone based on a liberal criteria for success.
The bottom line?
None of these study results are definitive for using these complementary treatments. But they do illustrate positive responses to specific complementary therapies in people with major depression who have not responded fully to mainstream drug treatment.
For depressed patients who need a better response to treatment, changing drugs is an option. These studies suggest its not the only option.
8/19/08 18:20 JR