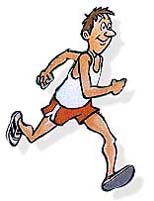 Vigorous exercise (running) at middle and older ages is associated with reduced disability in later life, according to this study by researchers at Stanford University School of Medicine in California.
Would you start running based on these results?
First, the details.
Questionnaires were sent to 538 members of a running club and 423 healthy non-runners.
Participants were at least 50 years old in 1984.
284 runners and 156 non-runners completed the 21-year follow-up.
Running and exercise frequency, body mass index, and disability (Health Assessment Questionnaire Disability Index [HAQ-DI]) were recorded.
And, the results.
Runners were younger, leaner, and less likely to smoke compared to non-runners.
The average disability score was higher for non-runners at all times.
It increased with age in both groups, but to a significantly lesser degree in runners.
At 19 years, 15% of runners had died compared to 34% of non-runners.
After adjusting for potentially confounding factors, runners demonstrated a significant survival benefit.
Disability and survival curves continued to diverge between groups after the 21-year follow-up as participants approached their ninth decade of life.
The bottom line?
OK, but if you aren't a runner at 50 years old, I doubt this study will convince people to start — just my opinion.
If you're so inclined, check with your doctor first.
To confuse you further, young female athletes (12 to 18 years old) who exercise to the point of amenorrhea have thinner bones.
8/12/08 20:26 JR