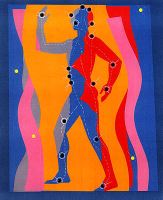 Difficulty swallowing (dysphasia) after stroke occurs in up to 60% of patients, and is associated with other complications and death, particularly if it's prolonged.
Acupuncture is used to treat this complication in China. Cochrane reviews the scientific support.
First, the details.
Studies evaluating the effect of acupuncture in patients with dysphasia within 30 day after the onset of a stroke were reviewed.
All types of acupuncture were included.
Comparisons were made to placebo acupuncture, sham acupuncture, or no acupuncture.
The primary outcome was recovery of normal feeding.
In addition, fatality, deterioration, late disability, length of hospital stay, quality of life, feeding tube removal, aspiration pneumonia, and nutritional measures were recorded.
And, the results.
Only one study of 66 participants was worth reviewing.
12 out of 34 participants (35%) getting acupuncture recovered to normal feeding compared to 7 out of 32 (22%) in the control group.
No statistical difference between groups.
The bottom line?
The reviewers concluded, "There is not enough evidence to make any conclusion about the therapeutic effect of acupuncture for dysphasia after acute stroke."
A study published this year on the effect of acupuncture on quality of life in stroke patients with dysphasia reported, "Acupuncture could improve the quality of live of patients with dysphasia after ischemic stroke."
Maybe, but this study compared 3 different types of acupuncture, yet failed to include a sham acupuncture group or a no treatment control group. In most patients, swallowing difficulties after stroke tend to clear over time. So, it's impossible to tell if the improvements were due to acupuncture or simply as part of the natural progression of stroke recovery.
8/3/08 19:16 JR