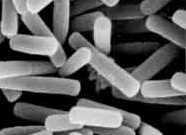 It's unclear whether killing the bacteria called Helicobacter pylori improves symptoms in patients with dyspepsia (ie, stomach pain with fullness, bloating, or nausea). But there is benefit in people with ulcers.
Here's a review from American Family Physician that recommends that all of us with dyspepsia be tested and treated if H. pylori is found. Recommendations from the American College of Gastroenterology are here.
Is there a role for CAM?
Not based on what we know now.
Currently, H. pylori infection is treated with a proton pump inhibitor (Nexium, Prevacid, Prilosec, etc) plus two antibiotics — called triple therapy.
Adding a probiotic food to triple therapy does not appear to help eliminate this bacteria in children.
Three studies of garlic and cinnamon to treat H pylori infections reported no significant effect.
More conflicting results are here.
2/5/07 08:39 JR