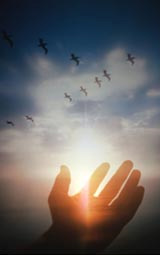 Unlike other studies that look at the effect of religion on individuals, this study looked the effect on communities.
Here are the conclusions from researchers at several US universities. The details are limited to what's available on the LSU website. A reader's comment, and follow-up by me make it worthwhile reading. And don't miss the zombie link.
People live longer in areas with a large number of Catholic and Mainline Protestant churches, which, say the authors, are known to have a worldly perspective.
How could this be?
These types of churches have a "worldly perspective." Instead of solely focusing on the afterlife, they place a significant emphasis on the current needs of their communities," said Dr. John Bartkowski from the University of Texas at San Antonio.
They also tend to create bridging ties in communities that lead to greater social cohesion among citizens — encouragement for healthy behavior.
In contrast, say the sociologists, Conservative Protestant churches have a mixed effect on community health. The "otherworldly" character of Conservative Protestantism leads congregations in this tradition to focus on the afterlife. Conservative Protestantism, according to the authors, is also a more individualistic faith, one in which the believer's personal relationship with God is paramount. They downplay the importance of using collective action, including human institutions, to improve the world.
Excuse me, but with respect, that's bologna.
Anyway, getting back to the study… Communities dominated by Conservative Protestant churches tend to have higher mortality rates.
Diving deeper into the fundamentalists, "Communities with a large number of Evangelical congregations have better health outcomes," said Dr. Blanchard. "Evangelical congregations do a better job of engaging the broader community and promoting social connectedness that is so essential for longer life expectancies."
The bottom line?
The study is published in a journal called Social Forces. When the abstract becomes available, I'll link to it.
Based on the information included in the "Call for Papers" page however, I think the conclusions of this study matched the view of the journal editors.
7/6/08 20:50 JR