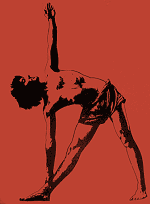 Yoga appears to be a feasible, safe, effective, and acceptable nonpharmacological option for premature ejaculation, according to researchers at the All India Institute of Medical Sciences in New Delhi.
Here's a comparison to fluoxetine (Prozac).
First, the details.
68 patients were assigned to yoga sessions or fluoxetine treatment.
And, the results.
3 patients dropped out of the yoga group because they couldn't meet the yoga sessions.
There was significant improvement in premature ejaculation in both groups of patients.
The bottom line?
Many questions remain unanswered, in part because the abstract is poorly written: too much explanation of the premise for evaluating yoga, tool few details of study protocol or results.
Ages of the patients?
Severity of the condition?
Duration of the study?
Duration of improvement after the end of treatment?
Why is the primary result (intravaginal ejaculatory latency) reported in general terms (good, fair) rather than in seconds and minutes?
There's probably more that I can't think of. And it's likely that the answers are in the article. For now, the authors' conclude, "More studies involving larger patients could be carried out to establish its utility in this condition."
9/25/07 21:44 JR