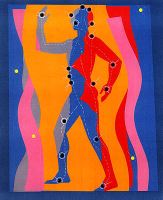 "At this time, the benefits of acupuncture for treating fibromyalgia remain unclear and require well designed controlled trials to identify its potential role," concludes Dr. Daniel Rooks from Beth Israel Deaconess Medical Center and Harvard Medical School in Boston in a review on Medscape.
Here's a summary of his review.
There are 3 studies to consider.
In 2005, a study in 100 patients showed no differences with acupuncture twice-weekly treatment for 12 weeks compared to 3 sham acupuncture groups for pain, fatigue, sleep quality, overall well-being, and physical and mental function.
Later that year, 114 patients were assigned to treatment with acupuncture at traditional sites or to one of 3 other groups that received acupuncture at other sites. Although needle insertion led to pain relief and improvement in other symptoms, correct needle location and stimulation were not crucial.
In 2006, 50 patients received acupuncture or no treatment. Acupuncture significantly improved symptoms of fibromyalgia. Symptomatic improvement was not restricted to pain relief and was most significant for fatigue and anxiety. The response lasted less than 7 months. This study was summarized here.
Pharmacotherapy combined with nonpharmacological interventions is recommended treatment for fibromyalgia. However, the contribution of acupuncture in this mix is unclear.
2/27/07 22:34 JR