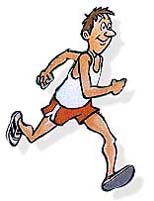 Researchers at The University of Tulsa in Oklahoma compared different forms of very short rest periods on subsequent performance.
First, the details.
30 volunteers performed 3 workouts:

45 degrees leg press
Prone leg curl
Seated shoulder press
Standing barbell curl

The number of sets and the resistance employed were identical.
For each workout, they received one of the following treatments between sets:

1 minute of rest as they stood upright
30 seconds of rest as they stood upright, or
30 seconds of concurrent massage and body part elevation (MBPE): massage of the exercised limbs in a raised and supported position

The volunteers performed as many repetitions as possible for each set.
And, the results.
For each exercise, statistical analysis revealed the following total work/elapsed time results: 1 minute rest less than 30 seconds rest, 30 seconds' MBPE.
For each exercise, cumulative repetition results were as follows: 1 minute rest greater than 30 seconds' rest, 30 seconds MBPE.
The bottom line?
The authors observed, "rest period duration exerts more influence on resistance exercise performance than MBPE."
They recommend, "Those who seek improved resistance exercise performance should pay particular attention to rest period durations."
6/22/08 21:36 JR