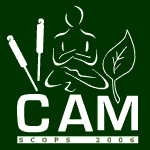 You won't be surprised to learn that pain of longer duration and greater impairment make children more willing to use CAM.
But which CAM options do they choose?
Researchers from UCLA studied 129 children (average 14.5 years) being treated at a clinic specializing in pediatric chronic pain.
Here's what they found.
More than 60% of patients elected to try at least one CAM approach for pain.
Most popular: biofeedback, yoga, and hypnosis
Least popular: art therapy and energy healing
Intermediate popularity: craniofacial, acupuncture, and massage
Children with fibromyalgia were the most likely (80%) to try CAM vs those with other pain diagnoses.
Among the mind-based approaches (hypnosis, biofeedback, and art therapy), pain duration and limitations in family activities were both significant predictors.
The bottom line?
According to the authors, "When given a choice children with chronic pain preferred non-invasive approaches that enhanced relaxation and increased somatic [physical] control."
Juvenile fibromyalgia is an uncommon disease. More information is here.
9/16/07 11:07 JR