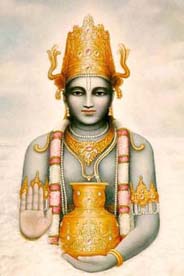 Lead, mercury, and (oh yeah) arsenic intoxication have been associated with Ayurvedic herbal medicines.
Here's an account of one patent's experience.
Toxicity in an 11-year-old girl.
She developed manifestations of arsenical keratosis (a localized horny overgrowth of the upper layer of skin such as a callus or wart) 6 months after taking Ayurvedic medications, prescribed for epilepsy.
At 18 months she developed non-cirrhotic portal hypertension (high blood pressure in the portal vein that carries blood into the liver caused by a blood clot, in this case not related to liver disease).
Blood levels for the presence of arsenic in the 8 Ayurvedic medicine she was taking were analyzed.
And the results.
The arsenic content of Ayurvedic medicines ranged from 5 mg/L to 248 mg/L.
The blood level of arsenic was 202 mcg/L. Normal would be less than 60 mcg/L.
Skin manifestations improved after stopping the Ayurvedic medicines.
The bottom line?
The authors concluded, "Ayurvedic medications should be consumed under strict guidance and supervision of qualified practitioners to prevent such catastrophies."
The risk of toxicity from Ayurvedic drugs is real; 20% — that's 1 in 5 — Ayurvedic herbal medicines produced in South Asia and available in Boston South Asian grocery stores contain potentially harmful levels of lead, mercury, and/or (oh yeah) arsenic.
6/29/08 21:34 JR