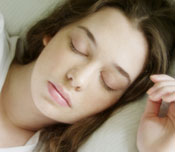 In 1993, Dr. Charles Morin published the results of research in 24 older adults with insomnia. He found that 8 weeks of cognitive-behavior therapy (CBT) improved their insomnia.
Furthermore, the improvement lasted 12 months.
Well, now its 2006 and Dr. Morin is back.
This time he reports on more than 2000 sleepy people from 37 studies that received different treatments for insomnia between 1998 and 2004.
During an interview with Medscape, Dr. Morin reasserted that based on his review, "CBT [cognitive behavioral therapy] is an effective therapy" for insomnia. It's just not used very much because doctors think it's too cumbersome.
Dr. Morin disputes this perception. He says, "there are some CBT methods that can be efficiently integrated into clinical practice and don't take an undue amount of time."
In fact, in another study, Dr. Morin found that both group therapy and individual face-to-face therapy using were cost-effective alternatives to individual CBT for treating insomnia. All three CBT methods produced improvements in sleep that were maintained for six months after the treatment ended.
A summary of how CBT works in insomnia is posted here.
11/21/06 19:57 JR