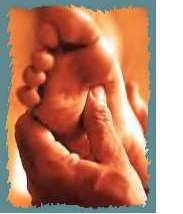 This review from the Taipei Medical University asks the question, where in medicine might reflexology be useful.
First, the details.
The English and Chinese medical literature from 1996 to 2007 was searched.
And the results.
5 studies were suitable for review.
Only one reported a statistically significant treatment effect.
Among the 12 areas examined, only patients with urinary symptoms associated with multiple sclerosis appeared to benefit.
For other conditions the response to reflexology was negligible.
The bottom line?
The authors concluded, "There is no evidence for any specific effect of reflexology in any conditions, with the exception of urinary symptoms associated with multiple sclerosis. Routine provision of reflexology is therefore not recommended."
Several studies published this year might not have been included in the review. So, let's summarize.
Phantom limb pain
Researchers at Maltings Mobility Centre in Wolverhampton, UK studied 10 people with unilateral lower limb amputations and phantom limb pain.
Reflexology treatment, teaching, and self-treatment reportedly eradicated or reduced the intensity and duration of phantom limb pain, in this group of clients.
12 months after the study, most patients continued self-treatment.
Stress and dementia
Researchers from Thomas Jefferson University in Philadelphia, Pennsylvania studied 21 nursing home patients.
They received reflexology or friendly visits for 4 weeks.
Then they reversed the treatments.
The authors concluded that their findings support the "efficacy of reflexology as a treatment of stress in nursing home residents with mild-to-moderate stage dementia."
Low back pain
Researchers at the University of Ulster in Newtownabbey, UK studied the response to 40 minutes of reflexology or sham treatment once per week for 6 weeks.
Lower pain scores were reported with reflexology vs placebo.
The abstract of the review article from Taipei doesn't give the criteria for including studies in the review. Therefore, it's not knonw of any of these whould have made the cut.
If you're inclined, a balanced introduction to reflexology can be found here.
5/22/08 20:20 JR