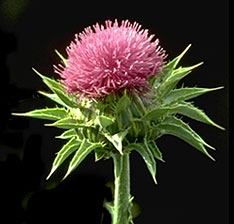 Milk thistle is used as an alternative therapy for liver disease.
Researchers in Seattle, Washington examined the effect of silybin on iron status in patients with hepatitis C.
First, let's define terms.
Silybin (aka silibinin) is the major active component of silymarin in milk thistle (Silybum marianum).
The drug used in this study — IdB 1016 (silybin-phosphatidylcholine phytosome) — reportedly improves liver enzyme levels.
Ferritin is a protein that carries iron and is used to indicate the body's iron stores.
Now, the details.
37 patients with chronic hepatitis C and fibrosis were studied.
They were randomly assigned to 1 of 3 doses of IdB 1016 taken by mouth for 12 weeks.
Iron and ferritin blood levels, total iron binding capacity, and transferrin-iron saturation were measured before and during treatment, and 4 weeks thereafter.
And, the results with IdB 1016
Ferritin blood levels decreased significantly during treatment.
78% of subjects had a decrease in ferritin blood levels.
Serum iron or transferrin-iron saturation did not change.
The bottom line?
The authors concluded, "Treatment with IdB 1016 is associated with reduced body iron stores, especially among patients with advanced fibrosis."
For perspective, Drs. James Nelson and Kris V. Kowdley from the University of Washington Medical Center in St. Louis say, "Several studies have shown [an] elevation of serum iron markers in patients with hepatitis C virus, [but] the clinical importance of this finding is debatable because there is not a conclusive association with disease severity."
The Cochrane Library review of the use of milk thistle in liver disease concluded there was no significant effect of milk thistle on mortality or complications of liver diseases in patients with alcoholic and/or hepatitis B or C liver diseases.
Confused, yet?
Another study reported no evidence of improvement, although the patients did feel better.
5/89/08 19:30 JR