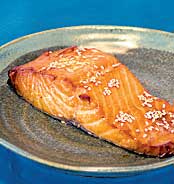 Over 22 years, men who ate fish had a lower risk of colorectal cancer, according to the latest findings from the Physicians' Health Study.
First, the details.
Dietary fish intake was assessed in more than 21,000 men using a food-frequency questionnaire.
The relative risk for getting colorectal cancer based on fish intake and the amount of omega-3 fatty acid in the diet were calculated.
And, the results.
Over 22 years, 500 men were diagnosed with colorectal cancer.
Men who ate more fish had a lower risk for colon and rectal cancers.
The findings for omega-3 fatty acids were similar to those for fish — higher intake lead to lower cancer risk.
The bottom line.
The authors concluded, "Our results … suggest that intakes of fish and long-chain omega-3 fatty acids from fish may decrease the risk for colorectal cancer."
But by how much?
Researchers from Wageningen University in the Netherlands report that the incidence of colorectal cancer might be lowered 12% by consuming more fish per week. For every additional serving of fish consumed per week the risk of developing the cancer could be cut by 4%.
5/20/08 19:31 JR