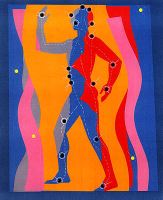 A few years ago I reviewed the safety of acupuncture and concluded that side effects due to acupuncture are uncommon events. This is still the general consensus. However, poor technique and negligence can place patients at risk of side effects that they had not counted on.
Infection at the acupuncture sites would not be listed among the 10 most common acupuncture side effects. However, cases of hepatitis infection have occurred, and now an outbreak of mycobacterial infections has been reported at a clinic in Korea.
In December 2001, an Oriental medical doctor in South Korea had several patients with persistent skin lesions at the sites of prior acupuncture needle placement. Further investigation discovered 40 patients treated at one Oriental medicine clinic had experienced persistent skin infections. The infecting organism was Mycobacteria abscessus.
Although usually associated with tuberculosis, certain mycobacteria can cause skin infections. People at risk include those with a compromised immune system such as people with HIV/AIDS.
The bottom line?
Most acupuncture needles are intended for use once and then discarded. When used under antiseptic conditions, the risk of infection is minimal. But even sterile needles when handled by dirty hands in a clinic that is dusty, dirty, and looks like janitorial services never heard of the place should raise your suspicion of risk.
10/7/06 14:35 JR