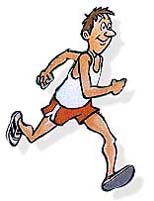 It's the eternal argument: How do we get the benefits while minimizing the risks?
For those of us in middle age, I think this article at USNews.com by Helen Hobson brings reason to the debate.
Dr. Arthur Siegel, who is chief of internal medicine at the Harvard-affiliated McLean Hospital, has studied non-elite Boston Marathon runners and reports the following.
While "marathon running is an overdose of a good thing," moderate exercise is one of the best things you can do for your health.
"If you're a middle-aged person at risk for coronary problems, you should probably do the training and skip the race."
"While immunity goes up when you work out for less than about 90 minutes, after a marathon, runners are about 6 times as likely to get sick as folks who didn't race. The long-term consequences of this immune-system suppression aren't clear."
OK, but where's the middle ground?
Dr. Paul Thompson, a cardiologist at Hartford Hospital in Connecticut, has a recommendation for the rest of us.
"Walk vigorously 30 minutes a day.
Quadrupling or quintupling Thompson's daily prescription isn't going to similarly increase your chances of better health and, if you're not careful it could increase the risk for other problems.
"It drastically cuts your chances of heart problems over the long term, not to mention… other health benefits, from staving off obesity to preventing osteoporosis and possibly cancer."
My recommendation?
Start by buying a good pair of walking shoes.
5/19/07 15:39 JR