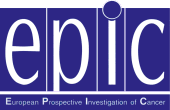 The European Prospective Investigation into Cancer and Nutrition (EPIC) is designed to investigate the relationship between diet and cancer. It's a multicenter study of more than 500,000 adults in 23 centers from 10 European countries.
Here's what we now know.
Eating more fruit lowers the risk of lung cancer but probably not prostate or breast cancer.
Eating veggies (mainly onion and garlic) probably reduces the risk of the intestinal stomach cancer but probably is not associated with lung, prostate, or breast cancer.
Eating red and processed meat increases the risk of colorectal cancer and with non-cardia stomach cancer in those infected by Helicobacter pylori.
Eating more fish reduces the risk of colorectal cancer.
High alcohol intake increases the risk of breast cancer.
More associations and explanations of findings from EPIC can be found here.
5/4/07 22:36 JR