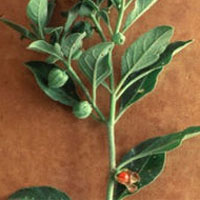 Ashwagandha (Withania somnifera; winter cherry) belongs to the pepper family. The root is used in Indian Ayurvedic medicine as an aphrodisiac, liver tonic, anti-inflammatory agent, and astringent.
People taking digoxin (Lanoxin) should be forewarned that tests to measure digoxin blood levels could be affected by the concurrent use of Ashwagandha, according to a study by researchers from the University of Texas, Houston.
It depends on the method used to do the test.
When Ashwagandha extract was added to a serum pool containing digoxin, a falsely elevated digoxin value was observed when measured using the fluorescence polarization immunoassay.
The values were falsely lowered when measured by the microparticle enzyme immunoassay.
There was no effect on the Beckman, Roche, or the chemiluminescent assay.
When the same experiment was carried out using other drugs, Ashwagandha had no effect on the measurement of concentrations of carbamazepine (Tegretol), phenytoin (Dilantin), phenobarbital, valproic acid (Depakene), procainamide (Pronestyl), N-acetyl procainamide, theophylline (Theodur), gentamicin, tobramycin, acetaminophen (Tylenol), and salicylic acid.
8/13/07 13:01 JR