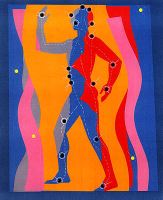 "Acupuncture reduced by half the hot flushes caused by tamoxifen in 59 breast cancer patients after surgery," according to this study presented at the European Breast Cancer Conference (EBCC) in Berlin.
First the details.
59 women were assigned to 10-weeks of acupuncture (twice a week for 5 weeks, then once weekly for 5 weeks) or sham acupuncture.
Needles were inserted 3 mm and distant from known acupuncture points in sham acupuncture vs on target at 3 cm with acupuncture.
Both groups were exposed to a neutral atmosphere (no soft music and minimal time spent talking to the therapist) in order to reduce the placebo effect of treatment.
And, the results.
Women treated with real acupuncture reported a 50% reduction in hot flushes, both day and night.
There was a further reduction in hot flushes at 3 months after the last acupuncture treatment.
The women in the sham group reported no changes in hot flushes during the day, and a slight reduction in hot flushes at night during treatment; but hot flushes increased when treatment stopped.
The bottom line?
Prof. Emiel Rutgers from the Netherlands Cancer Institute and the chairman of the meeting commented, "This was a very nice study, very clean, and I do believe that the patients in this study derived benefits from the acupuncture that was performed."
However, "The problem is that I cannot be sure about acupuncture that is performed elsewhere. It is not like taking a paracetamol [acetaminophen, Tylenol] pill. It [acupuncture] is so subjective; so I would be reluctant to send a patient for acupuncture to a practitioner that I do not know."
He's correct, Tylenol is not like acupuncture.
The American Association of Poison Control Centers received more than 100,000 reports of acetaminophen overdoses in 1998. And in a 2000 study, researchers from Centre Hospitalier de l'Université de Montréal-Hôtel-Dieu, Quebec reported, "On average, for each Canadian dollar spent on NSAIDs [including Tylenol-type products], an additional $0.66 was spent on their side effects."
I think the evidence indicates that Tylenol prescribed by ill-trained allopathic physicians or purchased by ignorant consumers can cause considerable harm compared to an acupuncturist's use of needles.
But I digress.
Regarding the effectiveness of acupuncture, the results of recent studies with acupuncture in women with breast cancer are summarized here and here. Both reported positive outcomes.
In another study, both acupuncture and ondansetron (Zofran) were significantly more effective than no treatment.
In addition, researchers in anesthesiology at Duke University in Durham, North Carolina reported at the American Society of Anesthesiologists 2007 Annual Meeting that their analysis of 15 large studies revealed that acupuncture "effectively eases postoperative pain without serious side effects."
These finding should be interpreted narrowly, however. In cancer-free women with hot flashes, researchers at the Mayo Clinic reported during the 2006 North American Research Conference on Complementary and Alternative Medicine that there was no difference between acupuncture and sham acupuncture.
4/30/08 17:29 JR