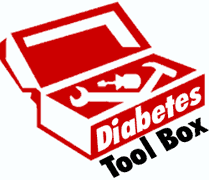 Older adults with type 2 diabetes are more likely to fall, but little is known about the factors that predict an increased risk of falls in this population.
The results from the Health, Aging, and Body Composition Study complement the recent CDC publication on preventing falls in the elderly.
First, the details.
446 diabetic patients (average age 74 years) were followed for about 5 years.
During annual visits to their doctor they reported falls in the past year.
And, the results.
In the first year, 24% reported falling.
In each subsequent year, 22%, 26%, 31%, and 30% fell.
Risk factors for falls included the following:

Higher cystatin-C — a marker of reduced kidney function
Poorer visual contrast sensitivity
A1C in insulin users that was 6% or lower vs greater than 8%

The was no relationship between A1c and falls in non-insulin users.
The bottom line?
The researchers reported that adjusting the results based on physical performance explained some, although not all, of these associations.
In addition to better control of diabetes, increasing activities that reduce the risk of falling, removing household risks, and taking advantage of programs to improve balance and coordination are logical preventive actions for diabetics.
The CDC has reviewed the options.
3/8/08 12:23 JR