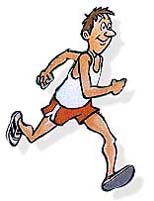 A study in The Journal of Clinical Endocrinology & Metabolism reveals that dieting alone is as effective at reducing weigh and fat as a combination of diet and exercise — as long as the calories consumed and burned are equal.
There was one important difference, however.
Here are the details.
35 overweight but otherwise healthy adults randomly assigned to follow one of 3 diet and exercise combinations over 6 months
Group 1 followed a healthy diet designed to maintain the participants? bodyweight
Group 2 followed a diet that reduced their caloric intake 25% (550 and 900 fewer calories per day)
Group 3 reduced their calorie intake by 12.5% while increasing physical activity to achieve an additional 12.5% increase in calorie expenditure
And the results.
Groups 1 and 2 lost about 10% of their body weight, 24% of their fat mass, and 27% of their abdominal visceral fat. The distribution of the fat in the body, however, was not altered by either approach.
There was one difference: Including exercise (Group 3) improved aerobic fitness.
The researchers concluded, "Exercise therefore, plays an equivalent role to caloric restriction in terms of energy balance; however, it can also improve aerobic fitness, which has other important cardiovascular and metabolic implications."
1/29/07 21:50 JR