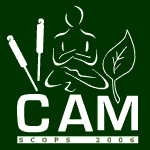 Medscape printed an article last year that was critical of CAM and any role it might have in the education of medical students. I summarized it here.
Now, a reasoned reply has been published.
Dr. Ronald Glick and colleagues from the Consortium of Academic Health Centers for Integrative Medicine start by defining integrative medicine and then list developments in the past decade where CAM "broke through" to the mainstream.
The Dean Ornish Program for Reversing Heart Disease — diet, mind-body approaches, and exercise — finding a decrease in coronary artery disease on angiography.
Acupuncture for knee arthritis with reduction in pain and improved functioning.
Fish oil/omega-3 fatty acids to prevent recurring heart attacks.
Importantly, the authors assert that as complementary treatments are integrated into mainstream medical practice, it's important to teach them in the context of the ancient systems of medicine from which they are derived.
When confronted with these specific examples, Dr. Robert Donnell and coauthors of the original article acknowledge the contributions of 2 of them (omega-3 and the Ornish program). But they still can't come to grips with a treatment such as acupuncture, which does not fit neatly into their view of "science."
Dr. Donnell agrees that "conventional medicine often falls short in addressing patients' pain and emotional needs … and applaud[s] efforts to remedy this state of affairs, even under the rubric of integrative medicine, provided such efforts fall within the boundaries of scientific integrity."
The bottom line?
The boundaries of "scientific integrity" are limited in the absence of historical context.
In fact, there's a tide of complementary treatments becoming mainstream. I think the main obstacle facing CAM, in addition to better studies, is that healthcare professionals are ignorant of the origins of most complementary treatments that integrate into mainstream medicine.
The movement from a complementary to integrative medicine in the absence of historical context deprives healthcare professionals of a full appreciation of CAM. Integrative medicine becomes synonymous with "mainstream" in the minds of many physicians, and this reinforces the misconception that CAM is "anything that doesn't work."
2/14/08 10:07 JR